The Breyer SpotLight: Your Horse Model Market Resource
Hi <>
In this issue
Personal note from Bonnie
Would you like a Secret Santa?
Breaking News and Updates you don't want to miss
Personal note from Bonnie
With December usually being a whirlwind for everyone, I thought I would keep things simple so that you could focus on the important things: Family, friends and spending some much needed time together.
It is in sharing that time that we are able to reconnect, enjoy and reminisce of past experiences. It is also a time that we can start new traditions that make a difference for someone else. So this month, I would like to encourage you to do something new, while remembering the old.
Let me share a story with you.
Would you like a Secret Santa?
Years ago my Son and I lived in a very small town where everyone knew everyone. If you were new in town, you stood out in the crowd, which may only be 5 people and usually at the post office. However, some of the things we learned in this small town were priceless.
I was a single Mother at the time, funds were very limited and I really didn't know too many people except for those I worked with at the hospital. My family was many states away and we had no way of getting back home for the Holidays.
The hospital had a yearly tradition of "Secret Santa" that most all employees took part in. Names for the Secret Santa were drawn around Thanksgiving so plans could be made. The secrets were kept very quiet while everyone tried to guess who had who. Then, for the entire week before Christmas each person taking part would give a small gift, a token of appreciation to the other person whose name they had drawn. And on the given day, everyone would gather for the "party" where each Secret Santa was finally revealed and everyone received their "big" gift from their very own Secret Santa.
However, it didn't stop there. The Secret Santa giving continued throughout the entire town up until Christmas Day.
I will always remember opening the front door on Christmas morning and finding a basket for my Son filled with gifts perfect for a 12 year old. That someone would care enough about someone they didn't know was an incredible gift in itself. And one that will never be forgotten.
And thus the tradition began. The following year my Son and I thought about those we knew who needed encouragement because of whatever need. We planned for weeks on the right gifts to purchase, made homemade cookies and filled special Christmas tins. Then very early Christmas morning before we sat by our own tree, we drove through the cold, crisp air to the homes to bestow the secrets to another family.
What we received in return was priceless and had more value than paper money could buy. We had been there, and we knew we had helped.
And this is the greatest gift of all, that in giving we receive more than we can imagine. After all, it is through God giving His own Son for us that we have life.
Is there someone you know who can use a Secret Santa? Maybe a meal prepared or the children watched for an evening? Or maybe even a ride into town for a cup of coffee or tea and simply a visit. Let your imagination go and see how much fun you it can be. And get ready for the warmest feeling you will ever have; the reason we celebrate Christmas, Giving.
Until next time, keep imagining and God bless.
Breaking News and Updates
Be sure to check for all the numerous updates at the end of this letter. We have some special announcements covering everything from news about MAAP pricing, the COM and our new store.
And now, with it already being the beginning of December and with only 20 more days till Christmas; we have a lot to cover! So let's get started.
MAAP Pricing has been discontinued for the month of December.
I have information from a very reliable source that Reeves International has discontinued its MAAP pricing for the month of December only. Just so you know, Reeves International started MAAP pricing earlier this year. This was an agreement with Reeves International and all Breyer Dealers that basically said the Dealers could not sell their models below a certain price. Now with this change for December, this will allow the Breyer Dealers to be able to drop their prices for the Christmas Season. However, once Christmas is over, the MAAP controlled pricing goes back into effect. So look for those Dealers who will honor the price drop and buy while you can! In fact you can just check our web site to find potential eBay deals!
Collector of the Month - Celia and Bruce Tamker
Celia and Bruce Tamker. When you are looking for a special model for a Christmas gift, be sure to check with Bruce and Celia. They have a whole truckload of models to choose from. And be sure to contact them to see others that are not pictured, you never know what may happen.
And don't forget to check back with our previous COM's as well. Just because they are not pictured on the site does not mean they are done selling! In fact, their inventory may have grown. (You can find their links on the Collector of the Month page as well.)
Breyer Horse Collectors Store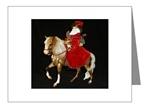 In case you missed our announcements; we have a new store open just for you, the Model Horse Collector. Be sure to check it out and let us know what you think. And we will certainly add something for you; just let us know what you can imagine and we will give a try.
We need Pictures of your Christmas models
We would like to update some of our pages, the Holiday page in particular, and since I have sold all of my Christmas models, we are in kind of a pickle. So we were wondering if you would like to help us out. What we are looking for are Breyer or Peter Stone Christmas models. The pictures should have a clean clear background and good lighting to show off your special model.
We would also need the information about the Model such as: Mold/Model name, year released, and what you like about the model. We will be sure to give you photo credit on the website with the picture as well.
So just click reply and send us your pictures with the proper information and then check back on the site throughout the rest of the year and watch for updates.
Keep Imagining!