Brandi Cooper - Featured Breyer Horse Collector
Meet Brandi! None of her models are for sale, but she is looking for Midnight Sun models, so if you have any for sale, please contact her! cowgirlcooper81@yahoo.com OR 817-269-3315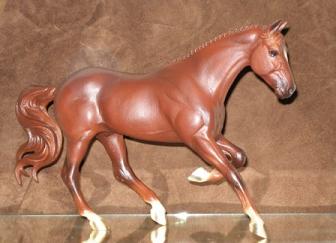 Tell us about yourself I live in Texas, and have been collecting Breyer models for over 10 years now. My collection started with my mother purchasing Gem Twist #959 with a Brown Tail not black. I left him in his box, scared that I would scratch him. I didn't realize at the time that Breyer horses were collectible and some highly sought after. I began collecting the horses I loved and watching for the ones I couldn't find. To the left is my model of the Gem Twist mold that was introduced in 1993 and sculpted by Kathleen Moody.
Why do you collect horse models? I love the way they look and smell. There is something about getting a new model, and opening the box just to smell him. I have recently opened my boxes and placed the horses on display. (yes i have kept the boxes and the ties). To the right is models of the Old Timer, one with a hat! The model was introduced in 1996, with a variety of hat colors through the years. I am also now making saddles and halters for my models. Makes me feel young again.
More models from Brandi's Collection!
| | |
| --- | --- |
| | The Cleveland Bay mold is another new mold introduced in 2006 and sculpted by J. Gerhardt. This is the first release. Tregoyd Journeyman. |
| | The Smart Chic Olena mold was introduced in 2006 and sculpted by S.C. Sifton. In a few short years that this mold has been available, he has proven popular with collectors of all ages. |
Return to Featured Breyer Horse Collectors