The Huckleberry Bey mold
The Huckleberry Bey mold has been very popular since it was introduced in 1999. It was sculpted by the very talented Kathleen Moody and the action and expression on the mold is wonderful.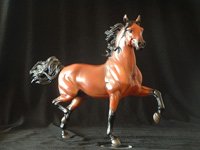 One example of this is seen on the model named Sham which was released only in 2005. With the release came the book "King of the Wind" written by Marguerite Henry. It is an extraordinary story about a young boy who is deaf and mute and a young Godolphin Arabian and their adventure for survival. I highly recommend this book and model to anyone who has children about the fifth or sixth grade level. It is stories like these that have held up to the test of time and never go out of style.
Limited Edition Romance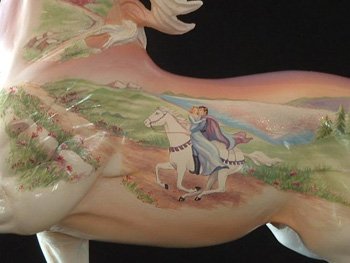 Romance was a limited edition produced on the Huckleberry Bey mold from 2004-2006. This beautiful model has scenes of Prince Charming dancing and riding away with his princess. And no matter which angle you capture on film, Romance always steals the show.
One note to keep in mind about this Breyer mold is that they can be tipsy. The disc that is sent with the models to help stabilize them is not very thick and can crack. Some collectors have opted to make a custom base for their molds to help them stand more securely and lower the risk of damage.
2008 Treasure Hunt Huckleberry Bey Stallions
Return from Huckleberry Bey to visit the Gallery