Breyer Classics Scale Models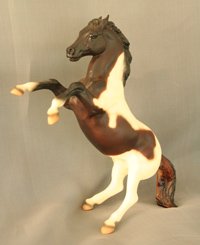 The Classic "scale" model refers to the Breyer Classics Model Horses that average in size from about 5 1/2 to 7 inches, however, just like the Breyer Traditional scale models; there are many inconsistencies in the size variations as well.
This lovely picture of the model Promise was provided by Bruce and Celia Tamker from Georgia.
These smaller scale models were introduced around 1973, long after the great success of the
traditional scale models
. Some have wondered if the smaller scale models were created to help young children hold these models easier. Since the smaller models fit easier into smaller hands.
Also, within the Classic-scale is a series called Classic Series; a series of models that Breyer labeled a particular group of models comprised of six race horses and a Lipizzaner.
Whatever the case or reason may be, there are many details to pay attention to with these models as well. You just never know what Reeves International will be doing to draw their customers in with something hard to find or higher value.