Vintage Breyer Horses
What makes them special?
Vintage Breyer Horses are model horses that were made some time ago, some collectors say 25 years. They are very collectible.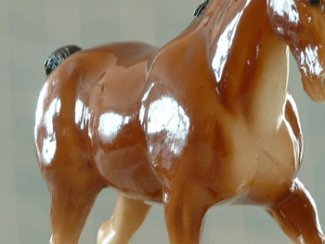 That's not to say that other models don't have their own special place in your heart. Every model is wonderful, and each and every collector has their own special reason for spending money on breyer models. However having grown up with them, I can tell you first hand there is something different about the ones called
Vintage
. To really know the difference you will have to hold one of these precious models in your hands. Then you know why vintage models are highly sought after.
The picture is a glossy Clydesdale Stallion made from 1958-1961, you can see in the picture the amazing glossy shine.
More Vintage Breyer Horses for Sale
Vintage Clydesdale Breyer Horses
Vintage Breyer Horse Mustang models
Vintage and Retired Breyer Running Stallion models
What's special about Breyer Vintage Horses?
Maybe it's the plastic that was used when Breyer first started making them. Maybe it's the old time gloss that was applied. Or maybe it's the personal touch that each and every mold has from way back when.
I like to think it's all three. But no matter what the reason, there is just something extra special about Breyer Vintage Horses. These wonderful models can be hard to draw your eyes away from because they bring back memories and inspire your thoughts.
And I'm not the only one that thinks so! Read below what our readers think.
Vintage: More Than Just Age: When you hear the term "vintage", an item 25 years or older automatically comes to mind ...
Glossy Honey Bay Arabian Mare: I believe that a vintage Breyer is a combination of many things, age being paramount ....
The Keepers of Our Childhood: Growing up in rural Alameda in the early 1960s, it was not uncommon for one of us three ....
Vintage Breyer Models .. each is special and has a story to tell: What a great conversation we have here! ...
What do you think? Click here to see more Vintage Horse Pictures and Comments and have your say!