Breyer Holiday Horse Collection
Each year the Breyer Company produces special models for the upcoming Holiday season. Imagine one of these beautiful Breyer Holiday Horses gracing your home during the holiday season. No matter whether your family celebrates Christmas or some other tradition, these unique models will crown any holiday decor and add warm to the chilly winter season.
It's no wonder these Breyer models have become quite collectable and popular among collectors of all ages. One detail to be aware of is sometimes the color from the costumes that are on these models can cause "color transfer" on the model itself.
What's the fuss about Breyer's Silver Snow? Find out.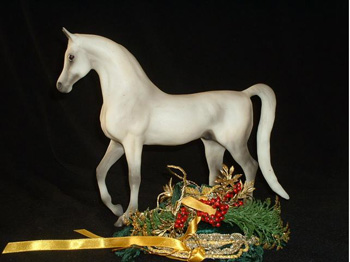 This is the Breyer model Horse, Khemosabi that was named "Silent Night" and released for the 2003 Christmas season.

He is made from an Arabian mold that was introduced in 1990 and sculpted by P.T. Stoneburner.




Holiday Horse Wintersong, who was released for Christmas 2007 and done from the Othello mold, is such a special horse that he deserves a page to himself.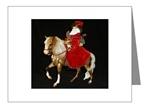 Remember those special friends in your life by sending them one of our Breyer Horse Greeting Cards.
More Breyer Holiday Horses - Holiday Hunt and Snowflake
Father Christmas and Glittery - 2004 Breyer Christmas Horse

Breyer Christmas Collection