Breyer Silver Snow
Limited Edition
The Breyer Silver Snow model was Breyer's newest web special on their online store. Silver Snow was released December 1, 2008 as a big Christmas release by Breyer's. These web only releases are new, and Silver Snow is the third web release.

The first release was Lady Phase "Delia", followed by Riley in November, which was available in matte or glossy.

Silver Snow created quite a buzz in the collector community, because it was only a release of 200, whereas, the others were releases of 500 & 400. Collector's were going wild because it was listed online at 8 am and sold out before 12:00!!!!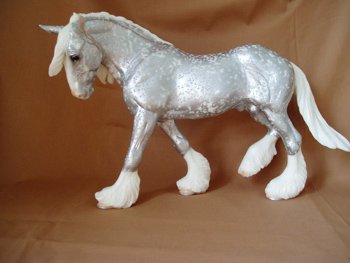 Breyer Limited Edition Web Special: Silver Snow Limited to 200 w/ COA
Thanks to Deb Marshall for this photo of Silver Snow that she was lucky enough to buy!
Return to Breyer Christmas Collection from Breyer Silver Snow