Featured Breyer Collectors
Deb Marshall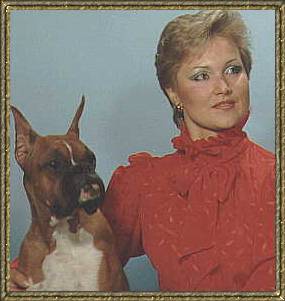 Deb Marshall has been collecting Breyer and Hartland Model Horses since she was 7 years old. Like many Breyer Collectors, Deb also has live horses. Deb also keeps busy with breeding and showing top winning boxer dogs, an avocation for the last 30 years.
When asked why she collects Model Horses, Deb said "I love the colors, the molds and different designs! Much easier to keep a herd of Breyers than live horses, although I have them too!". She also added "Now, that I have more disposable income, I have been able to focus on hard to find models."
Deb is very excited that she has been picked for the Breyer Velvet Rope Event.
Deb often lists on eBAY and MHSP. Due to an ankle injury she currently doesn't have any models currently listed but she was gracious enough to share with us some prized models below!
Deb can be reached through her email address: wdmarshall@verizon.net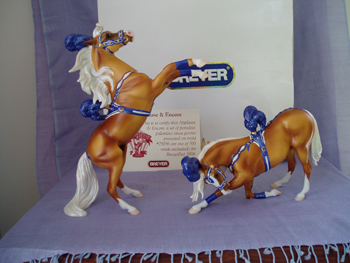 $395.00 + shipping
These Breyerfest Palomino Porcelain ponies are in mint condition, with COA and all original box, limited to 500 sets and hand painted.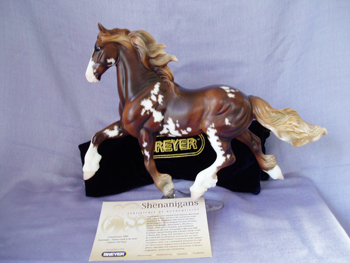 $350.00 + shipping
Only 350 of JAH Connoisseur "Shenanigans" were made, comes with her COA, Velvet Breyer bag and is LSQ, 4 current NAN cards.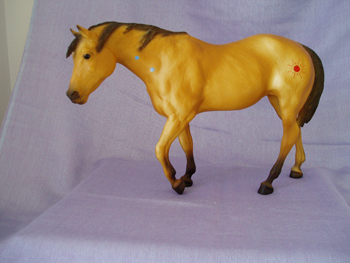 $350.00 + shipping
Buckskin Indian pony w/ painted Indian symbols--has current NAN cards and is as close to perfect as you can get!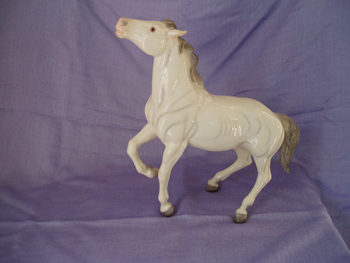 $200.00 + shipping
One of Deb's prized acquistions....A RED-EYED glossy alabaster with cut-back hoof. VERY close to perfect, looks almost like porcelain! For such an old model--she is close to pristine condition.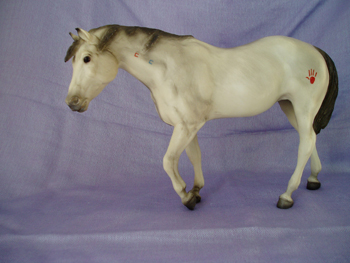 $400.00 + shipping
Another prized possession! The Alabaster Indian pony with painted symbols.....close to perfection, no rubs, breaks & great sharp ear tips!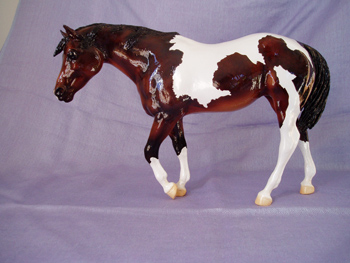 This is the Volunteer Model given out to those who helped with BreyerFest this year. The models name is Totsi and she is done on the Indian Pony mold and is absolutely gorgeous in a high gloss, Dark Bay Pinto. The estimate of how many of her that were made is 100 or less. She has been seen to sell on-line for as high as $800.
Return to Breyer Collectors from Deb Marshall profile page