A Model Horse Gallery
of Breyer Collectibles
I have been a horse nut since I could walk. I remember my mother putting me in the saddle of the family horse when I was so very, very young to give me a ride and lead me around. Well she got distracted and started talking to someone, leaving the reins within my reach. I remember thinking, "Oh goodie, now I can show her I do know how to ride!" and I grabbed up the reins and started to take off before she caught me. It certainly did not last long enough, but I was addicted for life. I believe that was the year I received my first Breyer model for Christmas and my birthday. I became hooked and never looked back.
Here are just a few of my "gallery", I have many, many more pictures. If you are interested in a particular mold, just click on the picture to see more information and pictures.
Holiday Collections and Greetings cards for Any Season



For the holiday season, you can collect and then display quite a variety of Breyer Christmas Horses and Ornaments to brighten up any household, especially during the chilly winter months.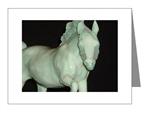 Greeting Card Gallery: I've put some of my best Breyer Horse Model photos on greeting cards so that I can easily share my passion with my friends, particularly those that live far away.
Old Friends - Vintage Mustangs and Clydesdales

Of particular interest to collectors is the Red Eye models, which I have several examples of in the retired Mustang models.
The vintage Clydesdales come in a variety of wonderful finishes including this woodgrained one.
Indian Pony
One of the ten most popular models, and certainly my all time favorite, I have many Indian Pony horse models. If you click on "Savannah" you can wander through my three page chronology of many Indian Pony models that have been released through the years.

Huckleberry Bey and the Friesians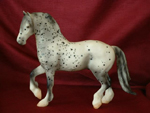 If someone has or doesn't have the ability to entertain owning a real live horse, the Breyer Model Horses can take a pretty close second place. I know I named each and every one of my Breyer Models and when I think of selling even one of them now that I am grown, it breaks my heart. They have the secrets of hours of dreams played out, that the new models in the collection don't have. The new ones inspire new dreams and attachments of a different kind. My original vintage Breyer collection may be only worth a few pennies to someone else, but to me, they are priceless.