Breyer Horse Christmas and Greeting Cards
Inspire those close to you and your clients with these beautiful greeting cards with your favorite Breyer Horse Model.
How many Collectors do you know who wouldn't love to receive a card like this from you? Perfect for the Holidays or any time of the year because you are able to fill in your own thoughts. Pack of 20.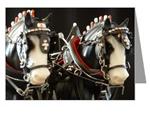 You won't find these Greeting Cards anywhere else. They are perfect for the Holiday Season and the card is large enough to be framed as an extra gift. Holiday greeting inside.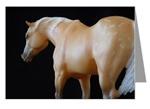 When you only need one special card for that one special person. Let Halayi help you with your message. High quality cards can also be framed for desk top or hanging.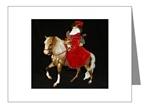 Here is a perfect way to spread your holiday wishes this Christmas Season. A special card sent from you is sure to help you stand out in the crowd. Available in a package of 20. Holiday greeting inside.
Greeting Cards with the beautiful West Coast Model Horse Jamboree Indian Pony Prairie Song. Blank on the inside so you can add what you would like, making these perfect for all occasions. Your choice of a pack of 10 or 20.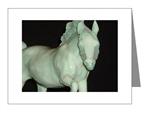 Year of the Horse Breyer model Jade Greeting Card. What a wonderful way to send a special thank you or invitation to those on your list. Perfect for any occasion.Package of 20.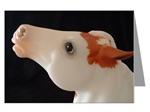 Breyer San Domingo Mustang: single greeting card with a beautiful picture of this ever popular model. Perfect for any occasion with plenty of room for you to write your own personal message.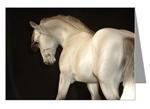 Wish friends and family a very Merry Christmas with Wintersong! Blank inside for your own personalized greetings. Package of 10.
Clothing, magnets, mousepads and other Breyer Horse Collector gifts from our store
.
Return from Breyer Horse Christmas Cards to Breyer Christmas Collection