Breyer Arabian Horse Models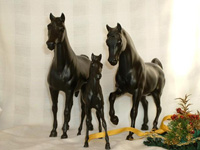 The Arabian Breed has been a favorite for many Equine Admirers since what seems like the beginning of time. So it is only natural that the Breyer Arabian Horse Models are popular as well. The breeds delicate head with the large jaw and tiny ears along with its unique spirit and movement has helped create its place in hearts of people everywhere.
They are a very versatile horse competing in anything from Western Pleasure to Cutting cattle in the show ring. Some of the best Dressage and Hunt Seat lessons I have had have been on the back of an Arabian. I have also watched these beautiful horses clean up in the gymkhanas in every type of speed event possible.
Add to all of that the mystery, elegance, beauty, and stories involving the breed that never go out of style, it is no wonder that the Breyer Company has made so many models in their honor.
Popular Breyer Arabian models include Sham and Khemosabi.
Huckleberry Bey mold, including Sham of the book King of the Wind

Khemosabi as Silent Night Breyer Holiday Horse


The Family Arabian models are more common and include The Family Arabian Mare, Foal and Stallion and the Proud Arabian Mare, Foal, and Stallion.
Family Arabian Congress

Family Arabian Stallions

Connie's Black Proud Arabian
There are also the breakables such as the Arabian Mare in Costume and A Fire At Night that are breathtaking.
With so many to choose from, it may be hard to know where to start. So do your research and know what you like, then trust your gut.
Return to Home Page from Breyer Arabian Horse Models