Breyer Family Arabian Stallions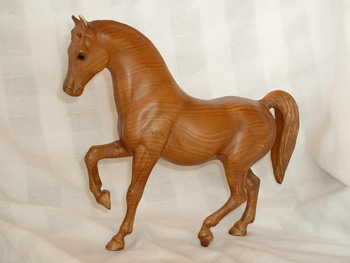 Family Arabian Woodgrain Stallion produced from 1963-1967. This one would also qualify as a Vintage model. Something to be aware of when collecting woodgrain models; some woodgrains have had problems with blistering on the surface of the finish.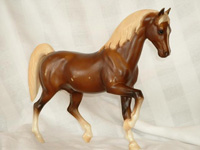 Family Arabian Stallion in matte liver chestnut, produced in 1983 or 1988 only. An interesting note: While researching the time frame of this models production, I have noticed some inconsistencies between references. Felicia Browell's book states this model was produced in 1988, while Nancy Young's book states it was made in 1983. From my own experience and when I received the model, I know for certain it was made in 1983. It just goes to show that any and all guides are simply that and a reminder that mistakes do happen.
This is No Doubt, a Series Run Special Released limited to January through June production for Toys R Us in 2000. He was one of four models included in what was called the Medallion Series. Each model of this series came with a medallion on a blue ribbon.
Return to Breyer Arabian Horse Modes from Family Arabian Stallions