Breyer Stablemates
The First Generation, 1975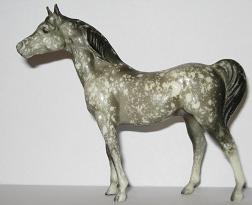 Left - #5010 dapple grey Arabian Stallion, made 1975-1976.
The first generation of Breyer Stablemates were produced in 1975. There were a total of 16 first generation molds, but only 7 of them showed up that first year. The remaining 9, although listed in Breyer's price guide, were not released until later in the year, ultimately being said as being released in 1976 by collectors. All of the first generation molds were sculpted by Maureen Love Calvert, who was previously employed by the Hagen-Reneker company where these molds were originally produced in ceramic.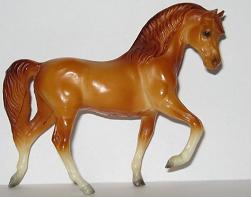 Right - #5037 chestnut Morgan Stallion, made in 1976 only.
The first 7 of the 16 Stablemate molds were the Arabian Mare, Arabian Stallion, Citation, Morgan Stallion (called "Arabian Stallion" it's first year of release), Saddlebred, Thoroughbred Standing and Thoroughbred Lying Foal.
The remaining 9 first generation Stablemates were the Draft Horse, Morgan Mare, Native Dancer, Quarter Horse Mare, Quarter Horse Stallion, Seabiscuit, Silky Sullivan, Swaps and Thoroughbred Mare.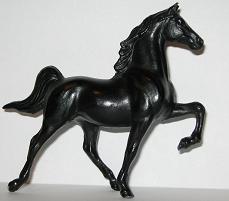 Left - #5110 black Saddlebred, made 1989-1990
Up until 1992, Breyer Molding Company Stablemates were made in U.S.A. from, what most collectors describe as, "old plastic", a high-quality cellulose acetate plastic. Since 1992, to save money, Breyer Reeves (who bought Breyer Molding Company in 1984) had all but two foal keychains made in China from a lower-quality acrylonitrile-butadiene-styrene copolymer, otherwise known as "ABS plastic". The use of this lesser quality plastic came with a loss of high-detail seen with the old plastic Stablemates.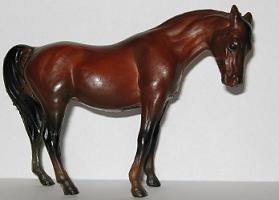 Right - #5014 bay Arabian Mare, made 1975-1988
Thanks to Susan Greystone for her photos!


G2 Breyer Stablemates - 2nd Generation
G3 Breyer Stablemates - 3rd Generation
Return to Home Page from Breyer Stablemates