Breyer's Just About Horses
Just About Horses is a magazine distributed by Reeves International. With this magazine are many benefits, keeping up to date with news of new releases, information on customizing, updates on shows, but probably the most valuable part of being a subscriber is the fact that every now and then, Reeves International, or Breyer, has a special model release only for its subscribers. These models are known as JAH models and are limited to 350 made.
A post card is included in the magazine that you need to fill out and send into Breyer. Then there is a drawing to determine who wins one of the 350 of that run. If you should be lucky enough to have your name drawn, you will be notified by mail. It is then up to you to send a payment for the model, no they are not free and range in price depending on the quality. After Reeves Int. receives you payment your model is sent to you, usually with a blue velvet bag and certificate of authenticity or COA.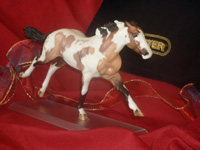 These models hold their value very well because they tend to be higher in quality, with more attention to detail and because they are limited in production. In 2007 the model released was "Scallywag" SR, as in other years only 350 were made.
If it is of a mold you do not collect you can sell it online on eBay and reserve at least your investment price if not double it. Of course you need to follow all of the recommendations of selling online in order to do that, but it is fairly easy. Timing is everything.
Breyer Golden Boy, Just About Horses Connoisseur Model
Deb Marshall attends the Velvet Rope Event!
Breyer JAH 2005 Special Release, ASB Glossy Florentine
Breyer JAH Widow Maker Connoisseur Model
Breyer JAH Alvaro - Mustang Sabino model