Breyer Golden Boy
Just About Horses Limited Edition Connoisseur Model
In 2001, Reeves International introduced a limited edition line of Models through their Just About Horses magazine. This limited edition line is only available to subscribers of the magazine with only 350 of these models available to be purchased.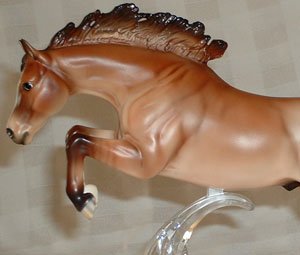 It is through this exclusive and limited supply that has made the Connoisseur Models so very collectible as well as highly valuable. Each one has beautiful detailing as well as a wonderful story. Each also comes with a Certificate of Authenticity and packaged in a blue velvet bag. They are also numbered on the underside of their stomach. (The Golden Boy pictured here is number 50/350.)
Because they are very limited in production, they are rather difficult to find and/or afford. The second Connoisseur Model I have been able to own is Golden Boy. (The first was Scallywag)
Breyer Golden Boy was sculpted by Sue Sifton and is a sweet little jumper in a lovely red dun color with great detailed mapping around his white markings, as well as primitive striping on his legs.
Golden Boy's base is a clear wave like structure that in my opinion is far better than the old stone wall that was used for the original Jumping Model introduced in 1965. It is much sturdier and allows more room for the imagination.
Breyer's Golden Boy is the 35th in the series and was featured in the Nov-Dec 2008 issue of Just About Horses. He is a bit smaller than other Traditional size models, as you can see in the pictures, however, he is still considered "Traditional" in size and the workmanship and detailing is fantastic.
Return to Just About Horses from Breyer Golden Boy