A Very Breyer Christmas Collection
Breyer Holiday Horses
This Breyer Christmas Collection is just a small glimpse of the wonder and imagination of a very Breyer Christmas Holiday.


Breyer Christmas Classic Father Christmas and Glittery, a 2004 Christmas release that is a popular part of any Holiday Celebration.





What's the fuss about Silver Snow? Read more about how this special online Christmas release created quite a ruckus.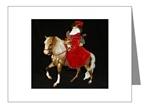 Remember those special friends in your life by sending them one of our Breyer Horse Holiday Greeting Cards.





Holiday Horse Wintersong, who was released for Christmas 2007 and done from the Othello mold, is one of my favorite photography subjects.




Breyer has made many Breyer Christmas Ornaments each year and they are fast becoming a must have in any Breyer Horse Holiday Collection.




Two for one Holiday Horses Holiday Hunt and Snowflake, although each is striking different, both beautiful models to celebrate a very Breyer Christmas Holiday.


Return to Breyer Holiday Horses from Breyer Christmas Collection