Breyer Christmas Ornaments
Breyer Christmas Ornaments for the Holiday Season have become popular with Breyer Horse Collectors. Based on the information we have been able to gather, we believe that Breyer started making the Holiday themed ornaments starting in 1999. Since that time they have produced quite a few and many have become very collectible.
There are many more than what is pictured here, from the famous stirrup ornaments to frames for pictures to carousel horses to other animals.

The one pictured to the left is the Glass Globe ornament for 2005 named Hats Off To The Holidays which is the third release in a collectible series.

This Christmas Breyer ornament is for the 2005 season as well.

It is named Jasper Hijinks and is a wonderful creation of a mischievous pony stealing Santa's hat.
This ornament is named Citation.

Citation was the winner of the 1948 Triple Crown and was Fourth in a series of eleven. He was made for the Holiday season of 2005 as well and has his jockey on board standing in the stirrups, maybe getting ready to enter the starting gate??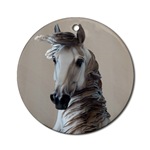 To join in the fun, we created our own ornament to commemorate Breyerfest's Alborozo (click on Alborozo for more details)