Featured Breyer Collectors
Celia Tamker
Celia Tamker is 50 years young and enjoys spending time with her husband, horses, and dogs. Pictured here with her husband Bruce, they are accompanied by her Arabian Peabody and Bruce's TWH Kansas. Along with collecting Breyers, she likes to Quail hunt and trailride. Celia is a volunteer with Pointer Rescue.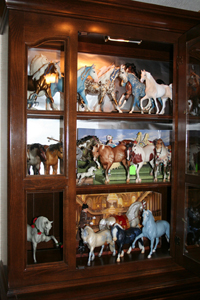 When asked why she collects Breyer Model Horses she tells us that "I have collected horse models since I was a girl. I enjoy the beauty and artistry of them along with the nostalgia of the vintage models. I especially like the Arabians (maybe because of my real live Arabian!), the rearing and fighting stallions, Indian ponies, and some of the more colorful models."While Celia mostly collects traditionals, she also has classics and stablemates. Most recently Celia has become interested in customizing model horses and hope to have some to show off in the near future. Celia lists on Ebay. She is looking into some of the other models horse sale sites as well but for now look for her Breyers on Ebay. Celia's Ebay name is heavenonhorseback and can be reached at heavenonhorse@cox.net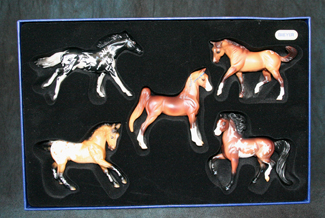 This 2006 JAH Miniature Connoisseur collection has five beautiful stablemate horses - Mini Mosaic, tri-color Pinto Sporthorse; Mini Approps, dun Appaloosa Sporthorse; Mini Third Times a Charm, dappled liver chestnut Saddlebred; Mini Quarterflash, shaded dun Appaloosa; and Mini Masquerade, pearly black and white Pinto.
In mint condition with COA $65.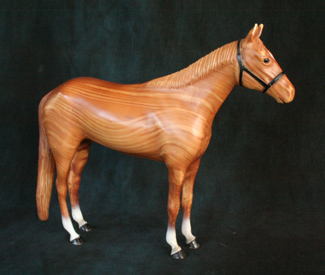 Racehorse #936:
This homely vintage Breyer woodgrain racehorse was made by Breyer from 1963 to 1966. He has some rubs but in great condition for his age.
Value $80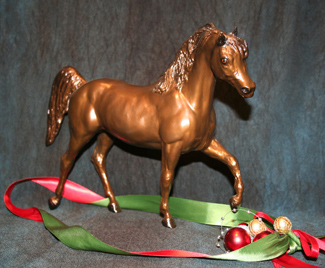 Hyskos #832:
A "bronzed" commerative edition made only in 1991. 7,500 were made and each numbered.
Excellent condition. $50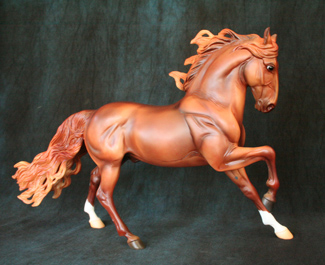 Calliente - 2008 Breyer Tour horse.
Calliente is a limited edition made for this year's tours. This might be the last year of the Breyer tours (We hope not!). Comes with its bag and COA.
Mint $90 SOLD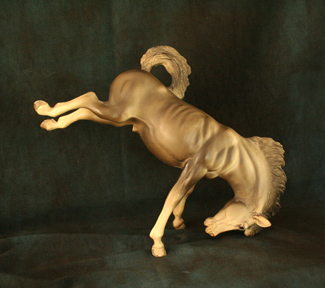 Bucking Bronco #191:
A vintage horse first listed as a traditional but is now listed in collector books as a classic. A few little rubs but in great shape for an old guy!
Value $50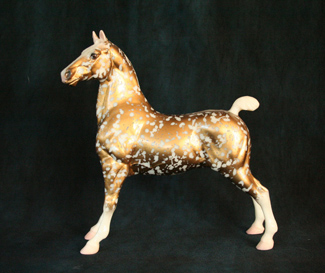 Giltedge - #703956:
This was a special JAH offer. He is a gold florentine Hackney. Each one is unique. Originally came with a diecast truck.
Excellent condition $45



Lakota Pony # 869:
This unique horse has three other brothers each representing the symbols that many of the Native Americans painted on their horses. This one has the war party leader symbol. The blue coloring with the white spots represent hail (to fall on the enemy). This fellow is in excellent condition. Value $45
Return to Breyer Collectors from Celia Tamker profile page