Breyer Indian Pony Mold :
2001-2004
The Breyer Indian Pony mold has consistently been in the top ten of Breyer models. Here are some of the models from this century.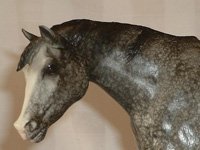 In 2001, Breyer did another SR which was for the West Coast Model Horse Collectors Jamboree. "Prairie Song" was limited to 1300 and has the most wonderful finish. She is listed as a matte finish; however, mine looks more semi gloss and seems to have etching done on her entire body. She is a great model.
Pairie Song photographs beautifully and I have been so inspired to put her on greeting cards to share. Share your passion for this beautiful limited Breyer Horse Model with the people in your life with either a 10 pack or 20 pack of greeting cards.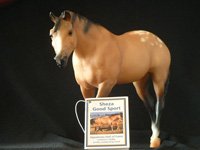 In 2002, "Sheza Good Sport" was released as a Hall of Fame edition. She is a buckskin blanket appaloosa with beautiful shading. She was limited to 10,000 produced and the serial numbering was done by hand. She was produced in honor of the "real" horse Sheza Good Sport who has produced 15 foals which have earned 10 bronze medallions, 8 registers of merit and a total of 550 points in halter to date in 2002. Her grandchildren have earned 3 World Championships and 3 National Championships. Apparently, Sheza Good Sport was never ridden, however has won 35 points and a register of merit in aged mare halter. She was born in 1980 and owned by Linda Jansson and Louise Crain
The 2003 SR release was for the Mid-States Distributing with only 3000 made. Her name is N'iekeni and she is a matte roan pinto with darker points. She is the first Indian Pony model Breyer produced with the feathers in the mane and tail. The coloring on this model is breathtaking, and I believe that the Breyer company raised its standards in paying close attention to detail with the newer models. They realized that collectors were becoming a little more particular about the models they purchased. This model is very eye catching and with her place in history with Breyer, her value increases. Per the 2008 copy of "Breyer Animal Collector's Guide: Identification and Values" by Felicia Browell
, she has a listed value of $44, however, I personally paid two and a half times that for the model that I purchased, and I felt like I was getting a great deal, all the others before her, I couldn't touch because they sold so high.
Next we have "Savannah Dial" who was a Limited Edition released in 2004. She is a bay pinto with one blue eye and one brown eye. The ultimate model is the glossy version of Savannah Dial which was a 2004 BreyerFest Live Show Prize. With only 8 of the glossy version made, she is another one I am waiting on. In the mean time, I will certainly enjoy my matte version of this beautiful Breyer Indian Pony.
Next .. more Indian Ponies from the 21st Century