Featured Breyer Collectors
Robyn Fox
Meet Robyn Fox! Robyn was raised on a small farm with a mother who had a heart for a stray. Needless to say, she passed on the same values to her daughter. Robyn now has her own hobby farm and has an open heart for a stray just like Mom! She started out with small animals, but moved toward larger animals as they was more of a demand for placement. Right now, she has a rescued thoroughbred who was malnourished, but is doing great. She has had other horses, cats, dogs, a cow and yes even fish and chickens in the past at Bad Dog Acres!
Along with doing the rescue work, Robyn is a full time drug and alcohol counselor, president of the Cheer Association, power seller on eBay, and full time mom!
Robyn has collected horse models since she was a girl. She enjoys the beauty and artistry of them along with the nostalgia of the vintage models. Robyn says "I especially like the Arabians (maybe because of my real live Arabian!), the rearing and fighting stallions, Indian ponies, and some of the more colorful models. While I have mostly traditionals, I also have classics and stablemates."
Robyn lists on Ebay but is looking into some of the other models horse sale sites as well. Her ebay store name is baddogacresrescue. Robyn can also be contacted at dogacres@hotmail.com and 330-315-2628. Robyn can also be found on facebook, if you send her a friend request, make sure to mention you are a Breyer Spotlight reader.
Check out the wonderful models that Robyn has for sale!
Good cond. - $50.00

Glossy palomino Fighting Stallion "King", #33, 1961-1967- Very good condition with some small rubs, nice shine- compare to value $70.00 in perfect condition, yours for $50.00.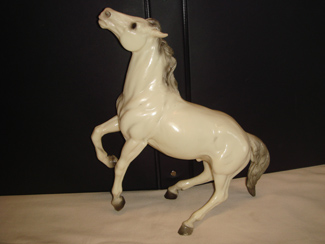 $107.00 excellent cond.

Glossy Alabaster Diablo, black eyes, #85, 1961-1966 - Excellent conditon. Slight rubs- $107.00 per book in perfect condition.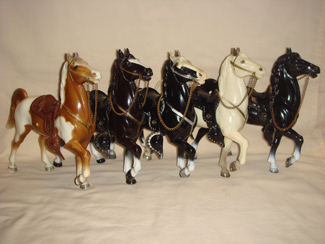 Values below

Conga Line of Furies- No breaks or chips, some normal wear such as rubs and scratches where the saddle sits.
1-P42, Prancer, Glossy chestnut pinto bald face, with original red plastic snap saddle, 1956-1962 Value $50.00
2-P440 Glossy dark plum brown Canadian Mountie Prancer, 1956-1957, has black snap saddle that is not original to horse. Value is $160 for whole set, half that for the horse
3-P40 Glossy black Prancer, bald face with original black snap saddle, 1955-1963, price $45.00
4-P45 Glossy alabaster Fury Prancer, 1955-1963, with black snap saddle that is not original to the horse, value $54.00
5-#27 Glossy Black TV's Fury, 1957-1965 with black snap saddle that is not original to the horse, price $54.00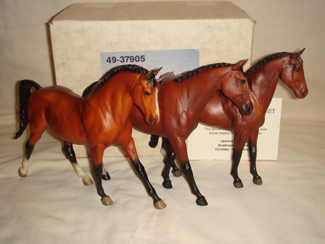 Mint cond. $47.00

German Olympic Set, German Export for Sears Wish Book, special run 1989-1990. Comes with the original box and insert name tag. They are all in mint condition and are valued together at $47.00 per Collectors book.
Rembrandt, matte bay on the Jet Run mold
Ahlerich, red bay on the Keen mold
Orchidee, bay on the Might Tango mold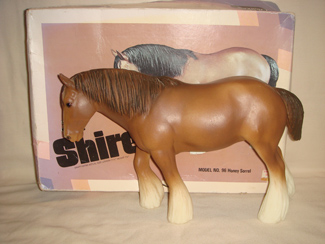 Your price - $43.00

Shire, #96, 1972-1976, matte honey sorrel, almost a chalky color, got her when I turned 3 ('73), with original box. In excellent condition. Value $43.00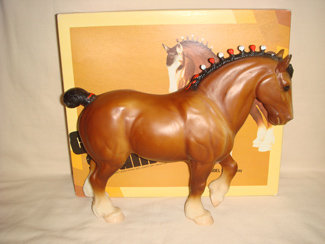 Price - $20.00

Clydesdale Stallion, #80, 1972-1989, matte bay with red and white bobs, got him for my 4th birthday ('74) with original box, in excellent shape, value $20.00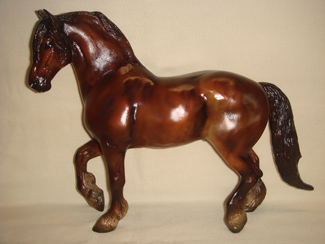 Near mint - $51.00

Fire Magic #711105 on the Friesian mold #485, special run for Breyerfest 2005, Celebration horse, only 4,000 made, semigloss shaded brown bay with dapples and darker points, near mint condition (small spot on chest, which is a factory flaw), value $51.00
Return to Breyer Collectors from Robyn Fox profile page