Smokey (aka "Arod")
by Teanna Byerts
(Dover PA USA)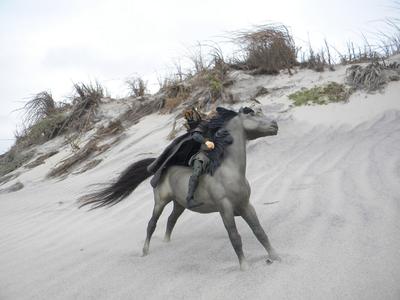 I began collecting about 1959 and have a few early Breyers and Hartlands as well as an ever expanding collection of awesome randomness (including a couple of rehabbed Our Generation ponies which served nicely for a mermaid photoshoot... it's on my website under Stupid Gravity).
Smokey is a Chris Hess sculpture. Mine lost his tail so a bit of expoxy putty and real horsehair from one of my four legged teachers repaired him.
He (and the other Classic Breyers) happens to be the right size for my Lord of the Rings action figures... some of whom (appropriate for Middle Earth) can ride. Here he is with Legolas aboard. In the book, Legolas rode without "saddle or rein" (because: Elvish way with all good beasts), his warhorse, borrowed from the Rohirrim, was named Arod.
An October journey to the edge of the world (or at least the North American continent) netted me these pics.
Assateague Island is famous for its wild ponies. This is north beach, where the ponies roam freely as part of the wildlife (mares are zapped with birth control darts occasionally). It was cloudy and everything below the knees was a sandstorm due to the wind off the sea. Still managed to get a few pics before Smokey and his friends blew over.