Whizards Baby Doll - Roxy
Breyerfest Celebration Horse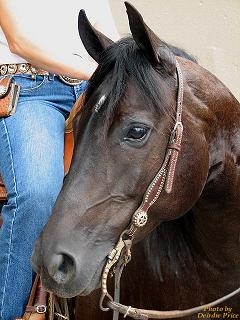 At each Breyerfest there is always a Celebration Horse that is highlighted.
For BreyerFest 2009, they chose "Whizards Baby Doll" (sometimes mispelled as Wizards Baby Doll), aka Roxy, who is ridden by Stacy Westfall. The picture of Roxy to the left was brought to us by Diedre Price of KY. Roxy is an American Quarter Horse who has won numerous titles and championships with Stacy as well as Stacy's husband Jesse Westfall. We have a video of Stacy performing with Wizards Baby Doll, it is simply wonderful to watch.
As a brand new mold sculpted by Sue Sifton, Roxy was released at BreyerFest 2009. Sue is a well known and accomplished Artist having sculpted numerous models for Breyer which include the likes of Cigar, Smarty Jones, the Show Jumping Warmblood, Newsworthy, and a selection of Porcelain models. Add to these great accomplishments the sculpture of "Indigo Blue"; a wonderful draft gelding who was rescued by Deb and Randy Buckler.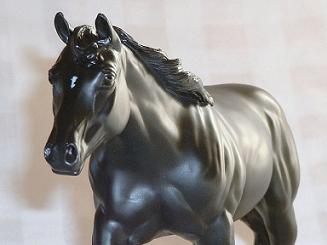 With the soft flip of the mane and swish of her tail, Ms. Sifton captured the willing temperament of this wonderful AQHA mare. When measured from the tip of her nose to the tip of her tail, Roxy is slightly over 14" long. Although she is not as tall as some Traditional size models, her length will require a bit more space when on display.

For many years the models that were available at BreyerFest came with a COA - or a Certificate Of Authenticity, to verify where the model came from and when it was released. However, maybe due to these COA's getting lost, things have changed and the models are now stamped on the underside in gold lettering.
Roxy is marked "BreyerFest 2009 Celebration Horse". All the other specials runs that are released are stamped simply "BreyerFest 2009" or whichever year they were released.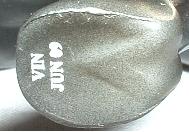 For some reason Roxy also has "Vin Jun 09" on the bottom of her left front hoof. Is this something new that Breyer is going to start doing as well? Time will tell.
I think Ms. Sifton did a wonderful job in capturing the quiet willing character of Whizards Baby Doll aka "Roxy". Don't you?
With Sue's talent, passion and experience I am quite sure a Collector will not be disappointed with the new addition to her resume, Roxy.
Return to Whizards Baby Doll Video